Introducing... the WhatIF Ube Shake!
Today's urban life continues to make us pressed for time—time to make proper balanced meals that not only energize us for the day but also nourishes us. Unfortunately, our food has reverted to being primarily easy and efficient. The rise of fast food and the likes has prospered in order to cater to this modern buzz of seemingly endless hype and hustle.
Yes, fast food is quick and easy, but it's also a huge compromise to your health and as The Guardian likes to say, 'Fast food is the new tobacco.' With this point in mind, we realized that there is a need for convenient nutrition, something that helps us stay healthy and sustains our immune systems with little effort and time. And so, convenient foods must come hand in hand with nutrition, or more holistically, nourishment.
This is where our Ube shake comes in.
What if we told you there is no compromise between convenience and health?
We've done our research, so you don't have to.
The Bambara groundnut gives our Ube shake a balanced macronutrient profile along with a much-loved nutty flavor. The perfect balance of grain and legume proteins makes our shakes high in complete proteins, and there are no artificial sweeteners, which is always a plus. For the folks on their fitness journey, we focused on keeping the shakes approximately 100kcal per serving, for your convenience!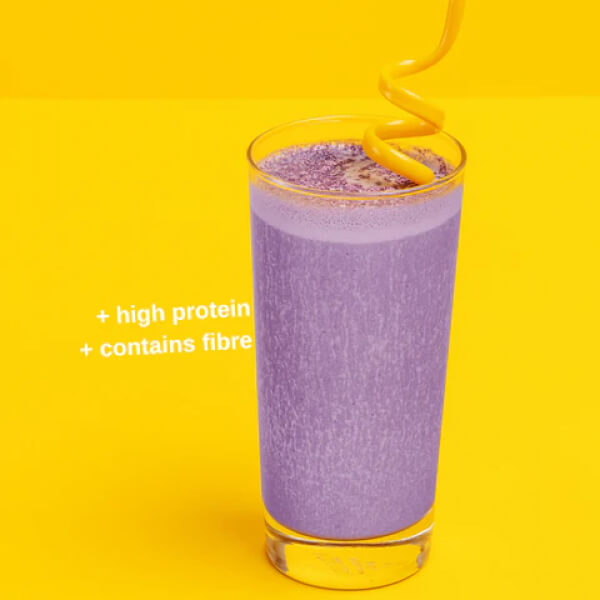 Purple Yam-iness!
On top of its impressive nutritive properties, Ube also possesses impressive ecological benefits, helping us pave the way to regeneration. Ube requires relatively low agricultural input like water, fertilizers, and pesticides[1] and can grow in harsh conditions like droughts.

Considered a neglected and underutilized crop, Ube is part of the FAO's list of Future Smart Foods to feed the world in the future as we continue to face pressures of food and nutrition security due to rising populations and rapid decrease in arable lands.[2]

The base of the shake is made from the nitrogen-fixing Bambara Groundnut, another regenerative crop, which also helps remediate degraded lands.
Empower farming communities
There is another relentless need that comes hand in hand with convenient nutrition— the need for our food to ensure fair profits for all without harming the environment around us. Instead of buying on demand, we have directly engaged with farmers to secure and purchase 75 tonnes of Bambara groundnuts, thereby carrying the risk of loss for people who are more susceptible to the effects of climate change and market fluctuations. This would allow our farmers to capture more of the value created, empowering more and more farming communities.
Your versatile 3-minute pick-me-up
For your rushed wake-up call, fuel for your morning run, post-workout recovery meal or an afternoon slump re-booster, you are sure to fill yourself up with truly good nutrition that nourish us and the planet.
To make the WhatIF Ube Shake:
1. Pour 200mL of your milk of choice into your blender, (we recommend our BamNut M?lk)
2. Add 30 grams of your WhatIF ube powder,
3. And blend until smooth! (preferably with a blender)
References:
[1] Chandrasekara A, Josheph Kumar T. Roots and Tuber Crops as Functional Foods: A Review on Phytochemical Constituents and Their Potential Health Benefits. Int J Food Sci. 2016
[2] Li, X., Siddique, K., Akinnifesi, F., Callens, K., Broca, S., Noorani, A., Henrich, G., Chikelu, M., Bayasgalanbat, N., Solh, M., Wani, S., Sawargaonkar, G., Dandin, S., Kumar, N., Hossain, M., Islam, M., Afroz, R., Jahan, T., Pradhan, K., Orn, C., Kong, K., Phommalath, S., Thein, M., Oo, K., Joshi, B., Shrestha, R., Cuong, P. and Chowdhury, A., 2018. Future Smart Food - Rediscovering Hidden Treasures Of Neglected And Underutilized Species For Zero Hunger In Asia. [online] the UWA Profiles and Research Repository. Available at: [Accessed 27 July 2020].